I'm taking a slight turn from talking about fiction to talk about the people who write books. As the boom in independent publishing has accelerated over the past five years, so has the squishy ethical standards of some of those engaged in it. This is NOT the majority of authors. However, the minority are harming all of us: readers, publishers, and authors alike. In a media-frenzy world we often become inured to bad behavior that seems to be rewarded instead of penalized.
What are some of these behaviors? Plaigarism in whole or in part of a work. Claiming "bestseller" status because the author's title was a bestseller for one day on Amazon free reads. Claiming "award-winning" author on the book cover because the author entered the first three chapters in a writing contest and won first place. Using "sock puppet" reviewers--friends/colleagues who use aliases to provide lots of great reviews. Buying reviews, Facebook likes, Twitter followers or other "Fake" multimedia presence. Constantly harrassing readers/bloggers with multiple emails, tweets, posts every day saying "Buy My Book!" Worst of all is badmouthing a reader, blogger, or other individual for posting an honest review that was not liked by the author or for making any statement about the work that did not result in a five-star review.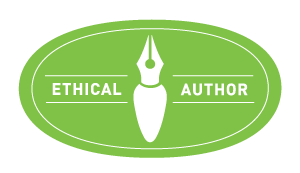 The Alliance of Independent Authors (ALLi) has worked in a positive way to combat this. Rather than supporting the public outing of each suspected unethical individual, ALLi has instead created a code of ethics and asked authors to state unequivocally that they will follow this code and to post the badge of this code on their website and/or blog.
You can read the code in its entirety here.
I support this movement and absolutely agree with the code. You will notice the badge on my website and this blog. I encourage other authors to also step up and be counted.
Will this stop all the bad behavior? Unfortunately not. But I believe that as more and more authors state they will follow this code, it will be more obvious what the expectations are of all authors. For those authors who behave badly due to misinformation, this code will stand for the ethical expectations of all authors.
I hope that a large group of authors promising to follow the code and clearly making the badge visible will show the unity of the majority of authors who are professionals, whether independent or traditionally published. These professionals want to be judged on the quality of their work and who they are as ethical authors. These professionals will continue to grow their readership in an ethical manner and continue to treat readers, publishers, and other authors as peers and deserving of respect.
I have always believed that good triumphs over bad, and this is a case where I believe this campaign can make a difference in stopping unethical behavior. If you are an author, I hope you will join me in standing up for the code. If you are a reader, I hope you will join me in supporting ethical authors knowing that they will treat you and their work with respect.